In January, 1875, a group of civic-minded men started the community's first lending library, the Bowling Green Library Association.
Criteria for Award: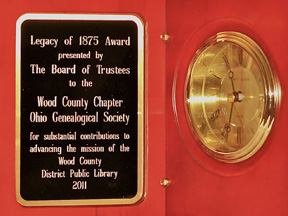 Improve library services through sustained or recent contributions.
Supports a significant library service, program, or activity.
Shows dedication, leadership, and support to library sponsored programs.
Advances the role of literacy and lifelong learning through partnership of libraries, organizations, and agencies.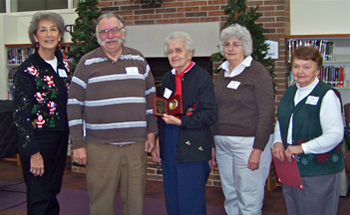 Pictured above is a desk clock presented to our chapter.
Shown receiving the award is Linda Hamilton, treasurer; Dick Juergens, president; Lolita Guthrie; Millie Broka, vicepresident; Ann Householder, secretary.