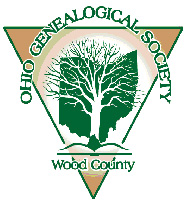 The Wood County Chapter, Ohio Genealogical Society was chartered as the 50th Chapter of The Ohio Genealogical Society in April 1980 to promote the history of Wood County, Ohio and its people.
The general purpose of the Chapter is to assist individuals interested in genealogy in tracing their ancestors, with emphasis to Wood County; to foster good research methods and documentation. In addition, the Chapter receives, collects, purchases, and preserves manuscripts, books, records, and family histories and makes them available for use in genealogical research.
The chapter has completed the project to photograph all the tombstones in Wood County and make them available on-line. Complete cemeteries have been done by a dedicated group of volunteers under the guidance of Wood County Genealogical Society members (sorry no individual photos are being accepted). Try our cemetery search page today.
Interested in joining? Read about the benefits of being a WCOGS member and our list of Programs and Events.
Parents should better control their children. This is more about children's use of various gadgets. To learn more useful information about spying on children's gadgets. Just visit the site
https://pumpic.com/
. It will help you solve this issue in a simple way.
php casino 2022 is a powerful and user-friendly script that has been developed for online gambling sites. It is a versatile script that allows for real-time configurations and offers HTML5 casino games on the frontend. In addition, it features a customizable casino backend and a user-friendly admin panel.
The Philippines' banking system is undergoing development and improvement, and the country's online and offline casinos are offering their services to Filipinos. The banking system is becoming more secure, and more Filipinos are using credit cards and other popular payment methods. Moreover, PH players are free to play at offshore Philippine Peso casinos.